Full lace wig, Mongolian remy hair, wig style WN-Mongolian-TPWavy-1-22, custom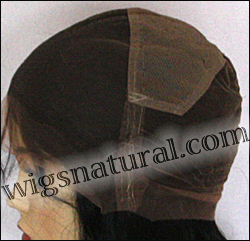 Product Description
Color Shown: #1. Length shown: 22 inches straight hair from crown to end. Tidy tips hair length measurement. Density shown 150%.
Permed wavy hairstyle, baby hair around perimeter, bleached knots. Single knots around perimeter, double knots elsewhere. Natural hairline (light hairline, medium density elsewhere). Light brown lace. Hair Type: 100% Mongolian Remy hair.
Measurements: circumference: 22.5'', front to nape: 14.5'', ear to ear across forehead: 12.5'', ear to ear over top: 12.75'', temple to temple round back: 15'', nape of neck: 5.5''.
Cap Construction: Full Swiss lace with stretch lace at the crown.
Available colors: 1, 1B, natural color (between 1B and #2), 1B/30 highlight, 1B/33 highlight, 2, 3, 2/3 highlight, 2/4 mix, 2/4 highlight, 2/4/6 mix, 2/33 highlight, 3/4 mix, 4, 4/30 highlight, 6, 6/8 mix, 30/27 highlight.
Availability: Usually ships in 5-6 weeks. Rush order ships in 4-5 weeks.